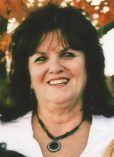 Sandra Marie Sparks- June 23rd, 1950- January 22nd,2018
Resident of Calhan, Colorado. After a courageous 2 ½ year battle with cancer Sandy has passed away surrounded by her family. Sandy was born and raised in Southern California, then moved to Colorado with her husband and children in 1978. She was a homemaker and worked as a waitress and in retail, most recent at Michaels craft store. Sandy also served as anexchange student coordinator for several years. Through placing many students, she created lifelong relationships all over the world.
Sandy was one of five children, born to John and Peggy DeCianne. She was the beloved wife for 44 years to David Sparks, the love of her life, (who preceded her in death). Sandy had a heart for the Lord and for her family. Her joy was in being surrounded by her children, grandchildren and great grandbabies. She loved quilting and was blessed by so many friends that she could share thatlove with. She had a servant's heart and always wanted to help those who were hurting and in need. Sandy had two sisters, Cheryl Mick and Linda Alaniz. Her brothers were John DeCianne and Michael DeCianne, (both preceding her in death). She left behind her 3 children; Sherry (Chris) Bassett, Sheila (Jim) Woolsey, and David (Erica) Sparks. Her 11grandchildren; Nicholas and (Brittany) Bassett, Natasha and (Ryan) Peoples, Joshua and (Amber) Woolsey, Sarah and (Marquez) Collins, Jacob and (Sabrina) Sparks, Anthony Sparks and (Ashley), Ashley Woolsey, Sheryll Woolsey, Katelyn Sparks, Charles Sparks and Mackenzie Woolsey. As well asher cherished 10 great grandbabies; Peirce and Paisley Bassett, Brooke and Liam Woolsey, Ariel and Aubrey Collins, McKenna and Owen Sparks, Chloe Sparks and Vincent Peoples.
Through her battle with cancer she had numerous visits and stays at various hospitals, seeing many different doctors. Even through her suffering she was always such a light and a reflection of God's love each time and to everyone that she encountered. Through it all her strength and courage were inspiring, her love for life was contagious and her gentle spirit was a blessing to all who walked her final journey with her. She will be dearly missed and always remembered.
Family and friends are invited to celebrate Sandy's life at a memorial service in her honor on Saturday, February 17th at 1:00 pm at Living Word Community Church of Calhan, 532 Colorado Ave. Calhan, Colorado. Donations may be made to the American Cancer Society or to cancer research in her honor.