In Memory
 of Richard C Rigg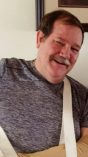 February 25, 1958 – January 25, 2018
    Richard passed away at Memorial Hospital surrounded by family and friends. He was one of four children born to Sandra Metevia and Robert Rigg in Bay City, Michigan.
    Richard raised two children. He enjoyed his family, outdoors, and serving his church and the community.
    Richard is survived by daughter Megan  Pence, son-in-law Jarad Pence, son Jacob Rigg; grandchild Leila Pence, brother Donald "Joe" Rigg,  sister Dawn Ayala, brother-in-law Roy Ayala, and many other family and friends.
 He was preceded in death by his parents and sister Deborah Rigg.
A celebration of his life will be held on Feb 9, 2018, 5:00pm  at Discovery Church, 4304 Austin Bluffs Pkwy. Richard loved the Broncos so please wear Bronco colors or gear if possible.
In lieu of flowers, the family requests donations to Rocky Mountain Healthcare Services 310 South 14th St Colorado Springs, CO 80904. Please make checks payable to Braincare with Memo: Donation for Richard Rigg in order to ensure funds go to that program.