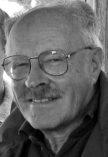 1931 ~ 2017
The Reverend Robert Lothrup Howard, age 86, peacefully passed away on the morning of December 2, 2017 in Colorado Springs, under the loving care of his son Jeremy, with the assistance of Pikes Peak Hospice and Palliative Care.
Robert, or Bob as he was often called, was born to Parents Lawrence and Ruth Howard (Lewis) in Bridgton, Maine on April 25th, 1931 where he was raised, alongside four siblings: Arthur, Lewis, Mary, and Rachel.
Learning was a lifelong discipline for Robert. As a child he was known to read books even while he walked to and from school, and subscribed to the National Geographic magazine at a very early age. After graduating from Bridgton High, he first attended Pomona College (Pomona, CA), followed by Earlham College (Richmond, IN), where he received a Bachelor of Arts degree in 1953. Finally, in 1957, he graduated from Andover Newton Seminary, allowing him to pursue a career in ministry under the umbrella of the newly formed United Church of Christ.
During his long and rich time as an ordained pastor, Robert proudly served congregations in Craftsbury, VT, Kingston NH, Thomaston ME, Hampden ME, and Sterling CO, before finally retiring in 1997.
Additional lifelong pursuits and passions for Robert included: correspondence, conversations with anybody and everybody (as long as the topic wasn't sports or cars, and especially not sport cars), walking, traveling, gardening, and eating cookies!
Robert's yearning for travel, in combination with his strong Christian compass, helped fuel adventures both near and far over the years, including Western road trips with the requisite pit stops at innumerable historic frontier Congregational Churches (much to the dismay of his wife and son); to four years of missionary work in Micronesia and Japan as a young adult; a brief tenure as guest minister in Paisley, Scotland; and last but not least a four month mostly bus-based sabbatical odyssey in Africa in 1989.
It was during his time teaching English to high school students in Japan, where Mr. Howard first met his future wife-to-be, Evelyn E. Brown, a native Kansan, also teaching under the same missionary program. They became loving husband and wife several years later in 1966, marrying in Kingston NH…and remained together for over 49 years, until the unfortunate passing of Evelyn in 2015.
The Howards were longtime residents of Colorado Springs, having relocated to the area after Mr. Howard's retirement. Robert was an active member of Vista Grande Community Church, with participation including teaching the adult Sunday morning class and tending to the landscaping. Additionally, Robert spent many summers helping tame the gardens located at Rock Ledge Ranch Living History Museum, adjacent to the Garden of the Gods.
Mr. Howard is succeeded by his son, Jeremy Howard (born 1970) also of Colorado Springs, his twin sister, Rachel Bacon of Naples Maine.
A funeral service for Mr. Howard was held at Vista Grande Community Church (UCC), 5460 N Union Blvd., at 1pm on Thursday the 14th of December, 2017. In lieu of flowers, the Family requests donations be made to the Alzheimer's Association.