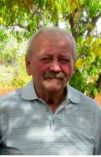 1953 ~ 2017
John Thomas Alexander 1953~2017
John was born August 11, 1953 in Dayton, Ohio, and died July 30, 2017 peacefully at his home in Colorado Springs after a valiant battle with cancer at the age of 63. John is preceded in death by his parents, James and Elizabeth, and his brother James, Jr.  John was a devoted brother to his 2 surviving siblings, a sister, Elizabeth (Libbyanne), a brother David, and to his niece and great nephews.
John was a sought after automotive mechanic having worked in California and Colorado who loved his '82 Chevy truck, being on the water, the great outdoors, John Wayne westerns, the color blue, cooking, and his beloved rescued Australian Cattle dog, Angel. He was also a die-hard Oakland Raider fan for most of his life.
It was Johns wish to be cremated, his ashes will be privately scattered by his family at a later date.
Johns many friends and family will dearly miss his presence on this earth. He resides among the Angels now. Bless him.
In lieu of flowers donations to help fund his Memorial would be gratefully accepted.  (David Alexander, 5045 N. Carefree Cir, Colorado Springs, Co 80917).