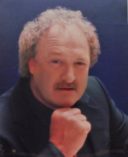 1940 ~ 2017
In Loving Memory
of
Charles E. Butterfield
Nov. 6, 1940 – July 31, 2017
Charles (Charlie) Everett Butterfield, 76, left his earthly home for his heavenly home on Monday July 31, 2017 in Colorado Springs, Colorado with family by his side after battling a severe lung disease.
Charlie was born on November 6, 1940 in Jefferson, Ohio to Russell & Florence Akins Butterfield. Charlie was a loving father, grandfather, great-grandfather, brother, uncle, & son. Charlie came from a very large family, and he was 1 of 10 children. Family was his life and would do anything for them at any time. At one point Charlie successfully donated his stem cells for one of his brothers who was battling cancer and is still in remission. If he encountered anyone needing work rather it be family, friend, or stranger he gave them a job.Family, friends, and acquaintances described Charlie as funny, driven, a hard worker, a character, spiritual, a giver, and a ladies man. He would say "clothing is everything, look good and when you walk into a room act like you own it, head up, and shoulders back".Charlie loved people and enjoyed entertaining them with his magic tricks (especially the little red sponge balls while quoting John 3:16), singing (even if it was off key),and jokes. He had many more skills such as building, remodeling, and cooking. There wasn't much he didn't know or couldn't learn, a true "Jack of all trades" type of guy. Charlie also loved to travel all over the Country. He mostly enjoyed the west coast and his latest love was Mexico.
Charlie is preceded in death by his father Russell, his mother Florence, his brothers Russell Jr.& Roger, his sisters Florence & Lois. Charlie is survived by his two daughters Tina Marie Butterfield (and Andy Schmidt) & Jean Eileen Butterfield (and Robert Williams), 5 grandchildren: Amy Landry (and Christie), Michael Langberg, Ashlie Holt (and Kevin), Sharayah Bosch (and Derrick), & Megan Erickson (Hayden), 5 great-grandchildren: Acacia, Jocelyn, Austin, Davian, & Aubrey, and 5 brothers: David, Timothy, Ronnie, Jerry, andWayne.
Charlie will be forever loved and greatly missed by those of us he left behind.Until we meet again, Rest In Paradise.